Stoomcalculator
EngyCal RS33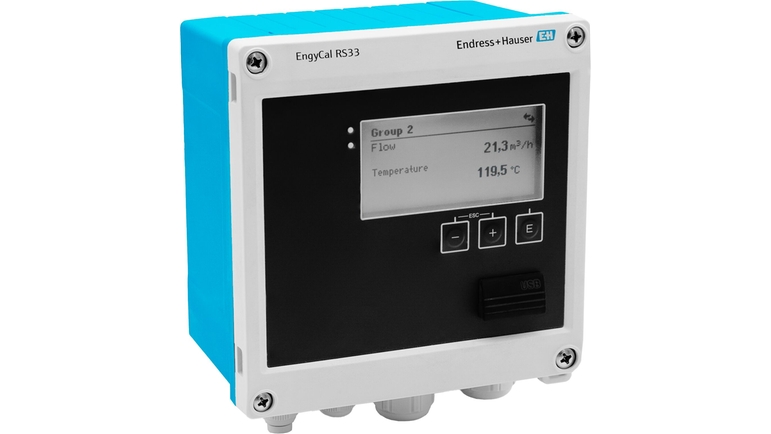 Stoomcalculator voor het registreren van de stoommassa en de energiestroom van verzadigde en oververhitte stoom
De stoomcalculator EngyCal RS33 wordt gebruikt om de stoommassa en de energiestroom van verzadigde en oververhitte stoom te registreren. De berekening is gebaseerd op de gemeten procesvariabelen volumestroom, temperatuur en/of druk.
De EngyCal RS33 maakt gebruik van de norm IAPWS IF97 om de massa en de energiestroom van stoom te berekenen. De dichtheid en enthalpie van de stoom worden berekend uit de ingangsvariabelen druk en temperatuur.
Eenvoudige producten

Gemakkelijk te selecteren, installeren en gebruiken
Technische topkwaliteit
Eenvoud
Standaardproducten

Betrouwbaar, robuust en onderhoudsarm
Technische topkwaliteit
Eenvoud
High-end producten

Functioneel en uiterst doelmatig
Technische topkwaliteit
Eenvoud
Gespecialiseerde producten

Ontworpen voor veeleisende applicaties
Technische topkwaliteit
Eenvoud
FLEX selectie
Technische topkwaliteit
Eenvoud

Fundamental selectie

Voldoe aan uw basismeetvoorwaarden

Technische topkwaliteit

Eenvoud

Lean selectie

Beheers eenvoudig uw belangrijkste processen

Technische topkwaliteit

Eenvoud

Extended selectie

Optimaliseer uw processen met innovatieve technologieën

Technische topkwaliteit

Eenvoud

Xpert selectie

Beheers uw meest uitdagende applicaties

Technische topkwaliteit

Eenvoud
Overzicht specificaties

Input

1x Puls/Analog for flow
2x RTD/Analog for temperature and pressure
Loop power supply 24V DC (+/-16%)

Output

1x 4...20mA
2x digital (Open Collector)

Display

160 x 80 Dot-Matrix LCD with white backlit
colour change in case of alarm event
active display area 70 x 34 mm

Calculations
Snelle selectie
Kies uit één van de voorgestelde opties
Individuele configuratie
Ga verder met uw keuze uit alle mogelijke opties
Aanvullende componenten

Voordelen

Compensatie van drukverschilflowmeting

Berekening volgens internationale waterstoomtabellen

Elektronische afstemming van de temperatuursensor (afstemming sensor-transmitter) met de rekeneenheid maakt een zeer nauwkeurige temperatuurmeting mogelijk

...
Toepassingsgebied

Registreren en factureren van energiehoeveelheden bij stoomtoepassingen (hoeveelheid stoomwarmte, stoomwarmteverschil). Typische toepassingen zijn:

Voedingsmiddelenindustrie

Chemische industrie

Farmaceutische industrie

Elektriciteitscentrales

Gebouw- en...
Documenten / handleidingen / software
Accessoires / Spare parts
Terminal strip 3 pole FMC1,5/3-ST-3,5

Voor digitaal I/O en RS485

Nr

8

Order code

XPR0001-KA

Nr

8

Order code

XPR0001-KB

Nr

8

Order code

XPR0001-KC

Nr

8

Order code

XPR0001-KD

Field Data Manager Software MS20

Visualization software and database for visualization of historical data like measured values, calibration or configuration. Manipulation protected SQL database, graphical visualization, tables for measured values, alarms or events, online help, user administration, Automatic read out of device data. Automatic data export in various formats or in secured format for backup or reduction of database. Note: The version FDM essential only supports RSG30, RSG35, RSG40 as well as RSG45 and has a restricted functionality.