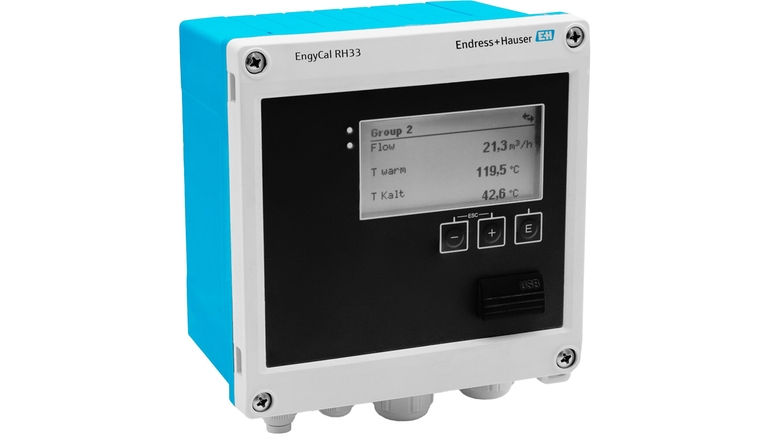 Custody transfer BTU meter for recording heat quantities of water
The BTU meter RH33 is used in applications with liquid energy carriers.
It calculates the thermal energy of water acc. to EN1434, glycol/water mixtures or other fluids such as thermal oils. Temperature sensor matching using calibrated temperature sensors is done in the device.
Potential for cost savings can be shown by using the software available as an accessory.
The device has a custody transfer approval and allows bi-directional measurement, e.g. charging/discharging of a heat accumulator.
Eenvoudige producten

Gemakkelijk te selecteren, installeren en gebruiken
Technische topkwaliteit
Eenvoud
Standaardproducten

Betrouwbaar, robuust en onderhoudsarm
Technische topkwaliteit
Eenvoud
High-end producten

Functioneel en uiterst doelmatig
Technische topkwaliteit
Eenvoud
Gespecialiseerde producten

Ontworpen voor veeleisende applicaties
Technische topkwaliteit
Eenvoud
FLEX selectie
Technische topkwaliteit
Eenvoud

Fundamental selectie

Voldoe aan uw basismeetvoorwaarden

Technische topkwaliteit

Eenvoud

Lean selectie

Beheers eenvoudig uw belangrijkste processen

Technische topkwaliteit

Eenvoud

Extended selectie

Optimaliseer uw processen met innovatieve technologieën

Technische topkwaliteit

Eenvoud

Xpert selectie

Beheers uw meest uitdagende applicaties

Technische topkwaliteit

Eenvoud
Overzicht specificaties

Input

1x Puls/Analog
2x RTD/Analog
Loop power supply 24V DC (+/-16%)

Output

1x 4...20mA
2x digital (Open Collector)

Display

160 x 80 Dot-Matrix LCD with white backlit
colour change in case of alarm event
active display area 70 x 34 mm

Calculations

heat quantity and heat quantity difference
Snelle selectie
Kies uit één van de voorgestelde opties
Individuele configuratie
Ga verder met uw keuze uit alle mogelijke opties
Aanvullende componenten

Voordelen

Transparent energy consumption helps you save on energy costs

Calibrated, electronically paired temperature sensors ensure the highest accuracy and enable replacement of individual temperature sensors even for certified devices in the field (without...
Toepassingsgebied

Recording and billing the quantities of heat and cold in:

Heating circuits

Cooling circuits

Combined heating and cooling circuits

Typical application areas in industry, long-distance heat networks and building automation.
Documenten / handleidingen / software
Accessoires / Spare parts
Terminal strip 3 pole FMC1,5/3-ST-3,5

Voor digitaal I/O en RS485

Nr

8

Order code

XPR0001-KA

Nr

8

Order code

XPR0001-KB

Nr

8

Order code

XPR0001-KC

Nr

8

Order code

XPR0001-KD

Field Data Manager Software MS20

Visualisatie software en database voor visualisatie van historische gegevens als gemeten waarden, kalibratie of configuratie. Manipulatie beschermde SQL-database, grafische visualisatie, tafels voor meetwaarden, alarmen of gebeurtenissen, online help, gebruikersbeheer, Automatisch uitlezen van de gegevens op het apparaat. Automatische data export in verschillende formaten of in beveiligde formaat voor back-up of vermindering van de database. Notitie: Alleen de versie FDM essentiële ondersteunt RSG30, RSG35, RSG 40 alsook RSG 45 en heeft een beperkte functionaliteit.

RTD Temperatuursensor TR10

Pt100 temperatuursensor met geschroefde procesaansluiting, nek en pijpthermowell conform DIN 43772 vorm 2G/3G. Geschikt voor algemeen gebruik en lichte chemische toepassingen. Vervangbare mineraalgeïsoleerde inzet met Pt100. Inzetbaar van -50 tot +400° en van -200 tot +600°C, afhankelijk van type Pt100.

Meetinzet TPR100

Pt100 meetinzet, diam. 3 of 6mm, isolatie MgO, RVS mantel. Geconstrueerd vlgs. DIN EN 60751, DIN 43735. Meetbereik afh. van type meetelement.