Automatic water sampler
ASP Station 2000 RPS20B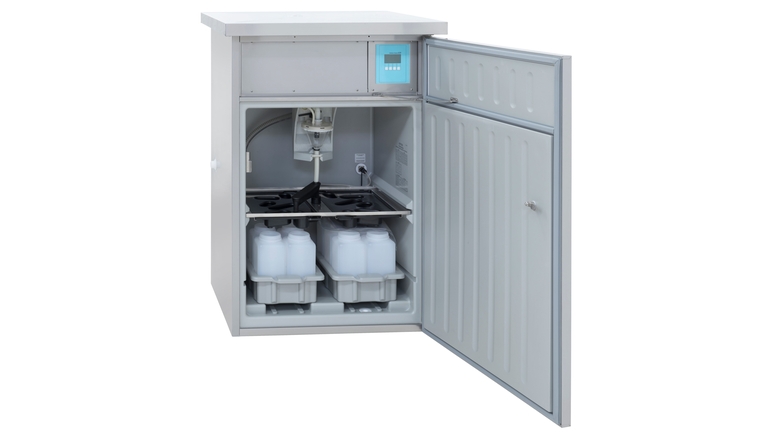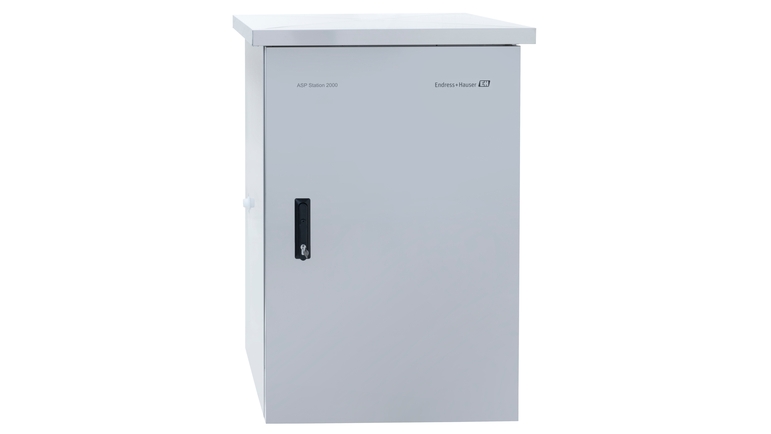 Fully automatic sampling in water and wastewater applications
ASP Station 2000 RPS20B offers fast, representative sampling compliant to international legislation. Thanks to its robust stainless steel housing and the built-in cooling system, your samples are safe and well preserved. Easy, menu-guided sample programming with quick setup and tool-free maintenance save you time in your everyday tasks.
Snelle selectie
Kies uit één van de voorgestelde opties
Individuele configuratie
Ga verder met uw keuze uit alle mogelijke opties
Voordelen

Stainless steel cabinet with foamed insulation for safe sample preservation

Menu-led operation with quick setup for quick commissioning

Media-carrying parts easy to mount without tools, for easy cleaning and maintenance

Separate bottle trays with grips for...
Toepassingsgebied

Municipal and industrial sewage treatment plants:

Process monitoring and recording

Efficiency monitoring; cleaning performance determined

Monitoring of indirect dischargers

Monitoring of wastewater networks

Laboratories and Water Conservancy Boards:
Documenten / handleidingen / software
Accessoires / Spare parts
Kit RPS20B: Suction hose internal cpl.

Kit RPS20B: equipment couplings

Kit RPS20B: Terminal board

Kit RPS20B: Pump: Membrane set EPDM

Kit RPS20B: Pumpe: Membrane set Viton

Kit RPS20B: Air filter for Membrane pump

Kit RPS20B: Membrane pump

Kit RPS20B: Air manager complete

Kit RPS20B: Airmanager: Tubing set

Kit RPS20B: Adapter rotary tap

Kit RPS20B: Rotary tap drive cpl.

Kit RPS20B: Rotary tap cpl. + adapter

Kit RPS20B: Cable set rotary tap

Kit RPS20B: Distribution hose 15x2

Kit RPS20B: 3 contact spring + cable

Kit RPS20B: LF-cable + Temp. sensor

Kit RPS20B: Temp. sensor wet compartment

Kit RPS20B: Conductivity sensor set

Kit RPS20B: bloqueio manual para sistema

Kit RPS20B: Diaphragm hose clamp

Kit RPS20B: Carrier plate dosing chamber

Kit RPS20B: Dosing unit: Set of gaskets

Kit RPS20B: Acryl dosing chamber 200 ml

Kit RPS20B: Flange dosing unit cond. cpl

Kit RPS20B: Dosing chamber fixing ring

Kit RPS20B: Maintenance kit small

Kit RPS20B: Maintenance kit pump

Kit RPS20B: Locking handle bolt cpl.

Kit RPS20B: Rear panel 316(x)

Kit RPS20B: Roof cpl. 316(x)

Spare parts for all sampler-systems

Kit RPS20B: Bottle tray + 12x 1 l PE

Kit RPS20B Bottle tray + 12x1l glass

Kit RPS20B: Bottle tray + 6x 3 l PE

Kit RPS20B: Bottle tray + 6x 1.8 l glass

Kit RPS20B: Bottle tray + 2x 12 l PE

Kit RPS20B Distribution pan 6 bottles

Kit RPS20B Distribution pan 12 bottles

1 liter fles PE + deksel, 24 stuks

1 liter fles glas + deksel, 24 stuks

1,8 liter bottle glass + cap, qantity 6

3 liter fles PE + deksel, 12 stuks

12 Liter (3,17US gal.)PE + cover 1 pcs

20 Liter (5,3US gal.)PE + cover 1 pcs

30 liter vat PE + deksel, 1 stuks

60 liter vat PE + deksel, 1 stuks

Aanzuigslang 13 mm ID, EPDM

Lengte 10 meter + gewicht 316L.

Kit CSF48 Strainer V4A/316(x) 13mm(1/2")

hoeveelheid 1

Kit CSF48 Strainer V4A/316(x) 16mm(5/8")

hoeveelheid 1

Kit CSF48 Strainer V4A/316(x) 19mm(3/4")

hoeveelheid 1

Kit RPS20B Distribution system

Kit RPS20B: Cabinet stand, V2A; 304(x)

Kit RPS20B: Cabinet stand, V4A; 316(x)

Kit CSF48: flow armature, sample

Sampling from transfer pipes. Material PVC, inlet 3/4", outlet 1 1/4", sample flow rate: 1000 l/h (4.5 GPM) up to 1500 l/h (6.6 GPM)

Kit RPS20B: Cylinder lock + keys

Kit RPS20B: Locking handle, without lock

Kit RPS20B: Retrofit door stop

Kit RPS20B: set of gaskets for door