Omnigrad T TEC420
Thermocouple thermometer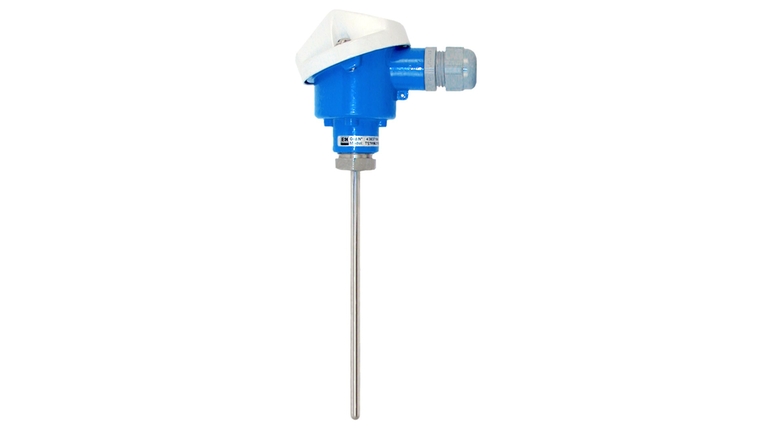 Comprehensive and common temperature measurement technology for almost all branches of industry
The high modular and robust thermometer finds its use in several applications in almost all industries. An optional head transmitter, with all common communication protocols, makes the device ready to use with enhanced measurement accuracy and reliability compared to directly wired sensors. A variety of process connections, dimensions and materials offer flexible application possibilities.
Voordelen

High degree of flexibility thanks to modular design with standard terminal heads as per DIN EN 50446 and customer-specific immersion lengths

High degree of insert compatibility and design as per DIN 43772

Head transmitter with easy selection: Analog...
Toepassingsgebied

TEC420 sheathed thermocouples cover temperature ranges from -40°C to 1100°C depending on the type of thermocouple. They can be used in low pressure applications in direct contact with the medium or protected by a thermowell. They can also be used in all...
Documenten / handleidingen / software
Accessoires / Spare parts
Gasket ring D21/di10x2 Aramid+NBR

Fixing kit cpl.TMT82/85/84 (europees)

2x schroef, 2x veer, 2x springveer, 1x afdichting CDI-connector

Term.block DIN B (42mm) 2 term. Spc 5 pc

Term.block DIN B (42mm) 4 term. 5 pc

Extension cable TC IEC 2x type K

L=180mm, 3 stuks

Extension cable TC IEC 2x type J

L=180mm, 3 stuks

Spare parts kit sealing TA30A/TA30D

5x O-ring 3.69x1.78 5x 0-ring 74.7x2.75

Meetinzet TPC100

Thermokoppel meetinzet, diam. 3 of 6mm, isolatie MgO, RVS mantel. Opbouw conform EN 60584, DIN 43735, ANSI MC96.1. Warme las geïsoleerd of geaard. Meetbereik type J: -40...750°C Meetbereik type K: -40...1100°C

ReadWin2000 configuratie/uitleessoftware

ReadWin2000 configuratie software

Aansluitkop TA20A

Connection head to mount a measuring insert with head transmitter or a connection socket. To be mounted on an armature or protective sleeve. Material: Aluminium epoxy resin coating Area temperature : max. +100 oC; ATEX: +95 oC. Beperkte productbeschikbaarheid, vervanger is TA30A.

Aansluitkop TA20B

"Product being phased out, limited availability." Connecting head to mount a measuring insert with head transmitter or a connection socket. To be mounted on an armature or protective sleeve. Material:Polyamid black. Ambient temperature: max. +80 oC. Protection: IP65.

Aansluitkop TA20D

Product being phased out, limited availability. Connection head to mount a measuring insert with up to two head transmitters or a connection socket and one head transmitter. For mounting on armature or protection sleeve. Material: Aluminium, varnished Ambient temperature: max. +100 oC; ATEX: +95 oC. Protection: IP66 Beperkte productbeschikbaarheid tot 2017, vervanger is TA30D.

Configuratiekit TXU10

Set-up software incl. USB- interfacekabel. Dit betreft een product uit het E-direct portfolio waar staffelprijzen aan gekoppeld zijn. Kijk voor meer informatie op www.e-direct.endress.com

iTEMP TMT84, Transmitter PA

PROFIBUS PA temperatuur transmitter voor kop- of veldmontage met dubbele sensoringang en advanced diagnostics voor sensorbewaking. Profibus PA Profile 3.02. Galvanische isolatie 2kV. Stroomverbruik: 11 mA. Montage: aansluitkop vorm B, DIN EN50446. Standaard fabrieksinstelling: Kanaal 1: Pt100, 3-draads, oC. kanaal 2: inactief. Meerdere configuraties selecteerbaar.

iTEMP TMT85, Transmitter FF

FOUNDATION Fieldbus temperatuur transmitter voor kop- of veldmontage met dubbele sensoringang en advanced diagnostics voor sensorbewaking. Galvanische isolatie 2 kV Meetsignaal: RTD, TC, Ohm, mV. Stroomverbruik: 11 mA.

Display voor koptransmitter TID10

Opsteek display voor koptransmitters. Dot-matrix met weergave gemeten waarde. 12 DIP-switches aan onderzijde. Instellingen: FF: Simulatie, write Lock. PA: Bus adres, write Lock. Geschikt voor: TMT85, TMT84 en TMT82

Commubox FXA195 (USB)

USB HART interface ten behoeve van universele configuratie tools (b.v. FieldCare) De stroomuitgang (4..20mA) is intrinsiek veilig uitgevoerd (SIL2, IEC61508) De interface wordt via de bijgeleverde kabel aan een PC of laptop aangesloten. De interface wordt gevoed via USB

iTEMP TMT181, koptransmitter PCP

Temperatuur transmitter, PC- programmeerbaar. Toepassing: RTD, TC, TC, Ohm, mV. 2-draads 4-20mA, galvanische isolatie. Foutreactie: NAMUR NE 43. Montage: kopvorm B, DIN EN50446. UL vermeld.

Aansluitkop TA30A

Aansluitkop voor aansluitblok of koptransmitter + optioneel display. Deksel: laag, scharnierend, optioneel met venster. Materiaal: aluminium Coating: polyester poeder-coating. Kleur: huis blauw, deksel grijs. Omgevingstemperatuur.: -50...150 oC. Beschermingsklasse: IP66/68, NEMA 4X.

Aansluitkop TA30D

Aansluitkop voor 2 koptransmitters of aansluitblok. Deksel: hoog, scharnierend. Materiaal: aluminium Coating: polyester poeder-coating. Kleur: huis blauw, deksel grijs. Omgevingstemperatuur: -50...150 oC Beschermingsklasse: IP66/68, NEMA 4X.

iTEMP TMT182, koptransmitter HART

Temperatuurtransmitter, Protocol HART. Toepassing: RTD, TC, TC, Ohm, mV. 2-draads 4-20mA, SIL2, galvanische isolatie. Foutreactie: NAAM NE 43. Montage: kopvorm B, DIN EN50446. UL vermeld.

iTEMP TMT82, Transmitter HART

2-draads temperatuurtransmitter. Dubbele universele sensoringang. Galvanische scheiding 2 kV (input/ output). Toepassing: RTD, TC, Ohm en mV. :: Zeer betrouwbaar door drift detectie en sensor back-up. :: Optioneel ook voor veiligheidskritieke applicaties door middel van SIL 2/3 acc. naar IEC61508