iTEMP TMT72
Temperature transmitter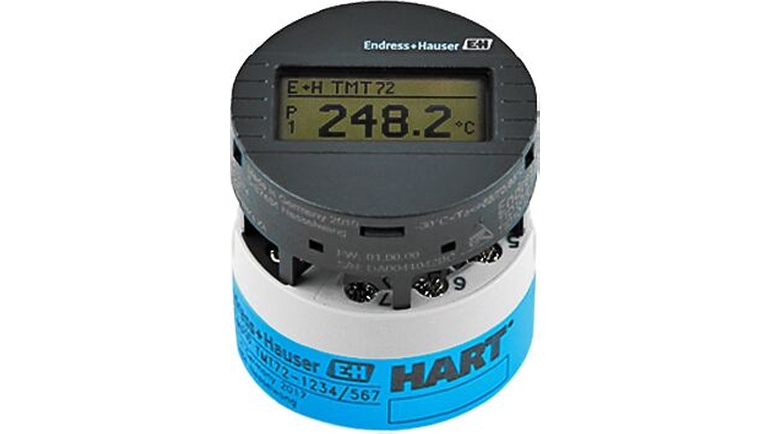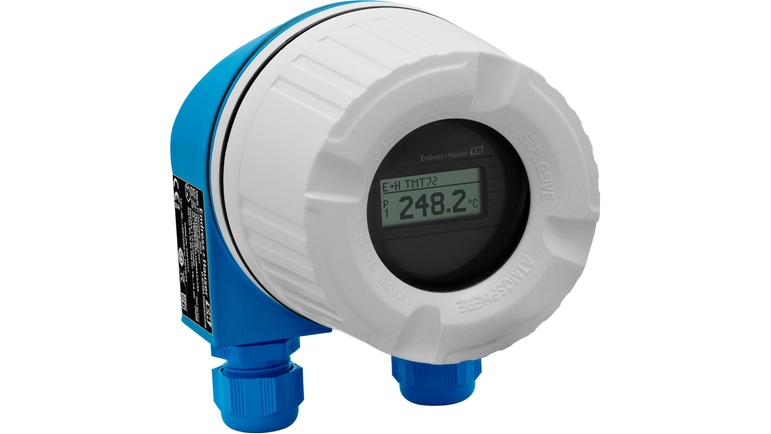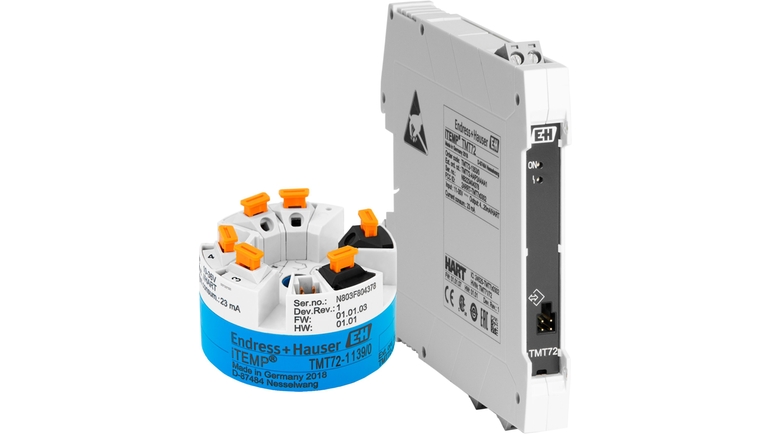 Transformation of sensor signals into stable and standardized output signals for all industries
Unsurpassed reliability, accuracy and long-term stability in critical processes across all industries. The configurable transmitter transfers converted signals from RTD and thermocouple (TC) temperature probes, as well as resistance and voltage signals using HART® communication. Diagnostics information according to NAMUR NE 107. Seamless integration into all major control and asset management systems. Integrated Bluetooth® interface for remote operation via Endress+Hauser SmartBlue App.
Snelle selectie
Kies uit één van de voorgestelde opties
Individuele configuratie
Ga verder met uw keuze uit alle mogelijke opties
Voordelen

Safe operation in hazardous areas thanks to international approvals

Reliable operation thanks to sensor and device monitoring

Integrated Bluetooth® interface for the wireless display of measured values and configuration via E+H SmartBlue (app), optional

Diagnostics information according to NAMUR NE 107

Available with plug-on display TID10

Optimization of...
Toepassingsgebied

Bluetooth®-enabled temperature transmitter with HART® communication for the conversion of various input signals into a scalable, analog 4 to 20 mA output signal

Improved process efficiency and increased plant uptime


Universal input for RTD, TC,...
Documenten / handleidingen / software
Accessoires / Spare parts
Fixing kit cpl.TMT82/85/84 (europees)

2x schroef, 2x veer, 2x springveer, 1x afdichting CDI-connector

Fixing kit cpl.TMT82/84/85 USA(american)

2x screws, 1x sealing CDI-connector

Set mounting bracket wall cpl. W06

Set mounting bracket pipe housing W06

Spare parts kit DIN rail terminal plug

TMT82

TID10 servicekabel

Extension cable for the CDI-interface for remote operation of the TID10 display for service and maintenance work Length: 40cm.

DIN rail montageclip voor koptransmitter

Geschikt voor de montage van een temperatuur koptransmitter op DIN rail.

Spare RFID TAG

Bestaat uit: RFID-tag, het bevestigen draad, krimp mouw.

Commubox FXA195 (USB)

USB HART interface ten behoeve van universele configuratie tools (b.v. FieldCare) De stroomuitgang (4..20mA) is intrinsiek veilig uitgevoerd (SIL2, IEC61508) De interface wordt via de bijgeleverde kabel aan een PC of laptop aangesloten. De interface wordt gevoed via USB

Display voor koptransmitter TID10

Opsteek display voor koptransmitters. Dot-matrix met weergave gemeten waarde. 12 DIP-switches aan onderzijde. Instellingen: FF: Simulatie, write Lock. PA: Bus adres, write Lock. Geschikt voor: TMT85, TMT84 en TMT82