TH14
Modular RTD thermometer, US style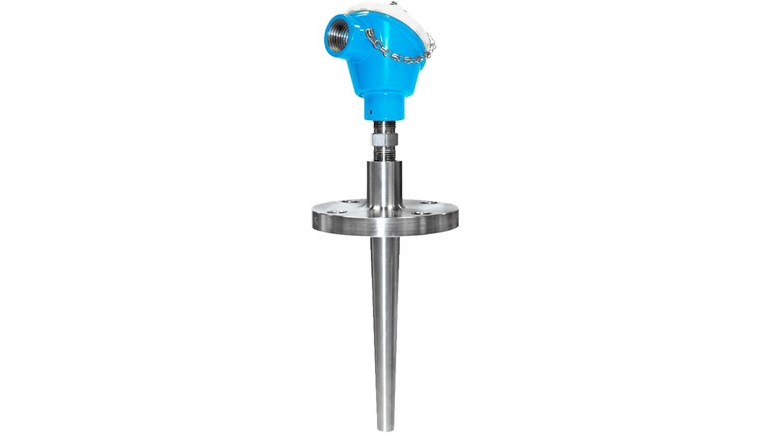 Best in class temperature measurement technology for general applications
The high modular thermometer is used for several applications with harsh environments, e.g. in power plants, refineries or in the chemical or petrochemical industry. The robust device with barstock thermowell and flange connection in SS316 or INCONEL600 and different head transmitter is a complete unit ready for use with enhanced measurement accuracy and reliability.
Snelle selectie
Kies uit één van de voorgestelde opties
Individuele configuratie
Ga verder met uw keuze uit alle mogelijke opties
Voordelen

High flexibility due to modular assembly with standard terminal heads and customized immersion length

One source shopping for temperature measurement solutions. World class transmitter with integrated sensor offering for heavy process industry...
Toepassingsgebied

The TH14 temperature sensors are RTD assemblies installed in thermowells and designed for use in all types of process industries, including harsh environments, due to their rugged design. They are made up of a measurement probe with an insulated RTD...
Documenten / handleidingen / software
Accessoires / Spare parts
Display fitt.kit field housing (3 piece)

Verpakking= 3 stuks

Afdichting 67,5x2,9x1,5 VMQ/PTFE 5st.

Geprofileerde dichtringen voor deksel van RVS F15 behuizing.

Filter kunststof behuizing F15, 3 stuks

Bestaat uit: filterplug plastic, Drukcompensatiefilter, O-ring. Gebruik: huisvesting F15. Niet Ex.

Nr

F

Order code

TMT142X-HI

Nr

F

Order code

TMT142X-HL

Fixing kit cpl.TMT82/84/85 USA(american)

2x screws, 1x sealing CDI-connector

Cable gland NPT1/2, D4,5-8.5 IP68

.

RIA141 Mast bevestigingsset

Temperature ceramic block 3 pole

Temperature ceramic block 4 pole

Insert imperial iTHERM TS212

Vervangbare insert, imperiaal versie, (maatvoering inches) QuickSens insert, voor snelle respons tijd en optimale proces besturing. StrongSens insert, maximale robuustheid en proces veiligheid.

RTD-Insert TU111, Gen.Purp. U.S.Style

Spare part. Spring loaded. General purpose. Pt100 Sensor comply with IEC60751 standard, alpha=0.00385.

Thermowell TU54, Flanged U.S.Style

Bar voorraad Thermowell, CRN nummer. De flens wordt gelast.

Spare parts kit cover terminal headTA30R

cover of connecting head

Aansluitkop TA30H

Aansluitkop voor aansluitblok of koptransmitter + optioneel display. Deksel: geschroefd, optioneel met venster. Materiaal: aluminium Coating: polyester poeder-coating. Kleur: huis blauw, deksel grijs. Omgevingstemperatuur.: -50...150 oC. Beschermingsklasse: IP66/68, NEMA 4X.

Aansluitkop TA30R

Behuizing voor aansluitblok of koptransmitter + optioneel display. Deksel: geschroefd, optioneel venster. Materiaal: SS 316L. Kleur: staalkleurig, geen coating. Omgevingstemp.: -50...85/130 oC (display/standaard). Beschermingsklasse: IP66/68, NEMA4X; IP69K (behuizing). :: eenvoudige bedrading door optimale toegangkelijkheid. :: compact en lichtgewicht ontwerp.

iTemp TMT180, koptransmitter Pt100

Temperatuur transmitter, PC programmeerbaar. Toepassing: OTO. 2-draads 4-20mA. Foutreactie: NAMUR NE 43. Montage: kopvorm B, DIN EN50446. UL vermeld.

iTEMP TMT181, koptransmitter PCP

Temperatuur transmitter, PC- programmeerbaar. Toepassing: RTD, TC, TC, Ohm, mV. 2-draads 4-20mA, galvanische isolatie. Foutreactie: NAMUR NE 43. Montage: kopvorm B, DIN EN50446. UL vermeld.

iTEMP TMT182, koptransmitter HART

Temperatuurtransmitter, Protocol HART. Toepassing: RTD, TC, TC, Ohm, mV. 2-draads 4-20mA, SIL2, galvanische isolatie. Foutreactie: NAAM NE 43. Montage: kopvorm B, DIN EN50446. UL vermeld.

iTEMP TMT82, Transmitter HART

2-draads temperatuurtransmitter. Dubbele universele sensoringang. Galvanische scheiding 2 kV (input/ output). Toepassing: RTD, TC, Ohm en mV. :: Zeer betrouwbaar door drift detectie en sensor back-up. :: Optioneel ook voor veiligheidskritieke applicaties door middel van SIL 2/3 acc. naar IEC61508

iTEMP TMT84, Transmitter PA

PROFIBUS PA temperatuur transmitter voor kop- of veldmontage met dubbele sensoringang en advanced diagnostics voor sensorbewaking. Profibus PA Profile 3.02. Galvanische isolatie 2kV. Stroomverbruik: 11 mA. Montage: aansluitkop vorm B, DIN EN50446. Standaard fabrieksinstelling: Kanaal 1: Pt100, 3-draads, oC. kanaal 2: inactief. Meerdere configuraties selecteerbaar.

iTEMP TMT85, Transmitter FF

FOUNDATION Fieldbus temperatuur transmitter voor kop- of veldmontage met dubbele sensoringang en advanced diagnostics voor sensorbewaking. Galvanische isolatie 2 kV Meetsignaal: RTD, TC, Ohm, mV. Stroomverbruik: 11 mA.

ReadWin2000 configuratie/uitleessoftware

ReadWin2000 configuratie software

Display voor koptransmitter TID10

Opsteek display voor koptransmitters. Dot-matrix met weergave gemeten waarde. 12 DIP-switches aan onderzijde. Instellingen: FF: Simulatie, write Lock. PA: Bus adres, write Lock. Geschikt voor: TMT85, TMT84 en TMT82

Configuratiekit TXU10

Set-up software incl. USB- interfacekabel. Dit betreft een product uit het E-direct portfolio waar staffelprijzen aan gekoppeld zijn. Kijk voor meer informatie op www.e-direct.endress.com

Commubox FXA195 (USB)

USB HART interface ten behoeve van universele configuratie tools (b.v. FieldCare) De stroomuitgang (4..20mA) is intrinsiek veilig uitgevoerd (SIL2, IEC61508) De interface wordt via de bijgeleverde kabel aan een PC of laptop aangesloten. De interface wordt gevoed via USB