TAF16
High temperature TC thermometer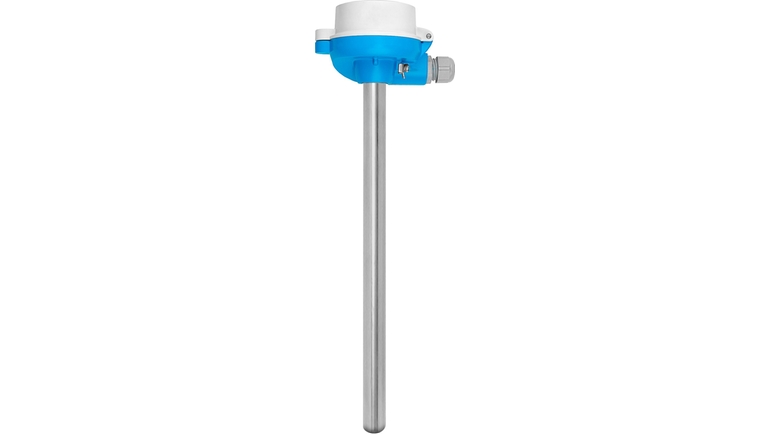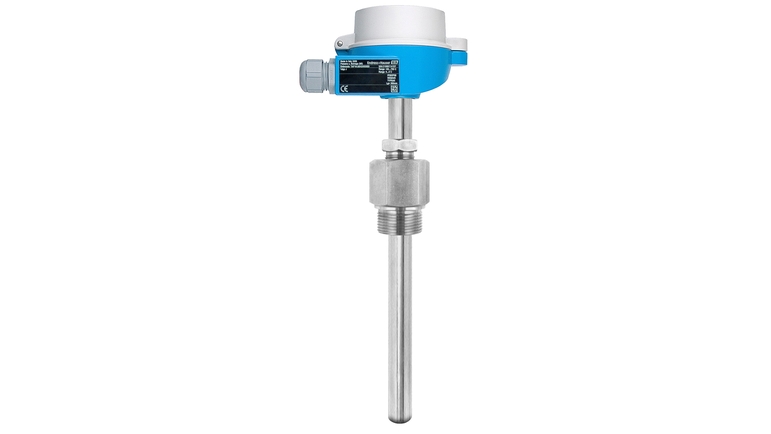 Applicable for cement production, steel treatment, incinerators and fluidized bed furnaces
Measuring points with extremely high process temperatures require these special thermometers with ceramic or metal thermowells as well as thermocouples made from special metals, such as platinum and rhodium. The thermowell made from special materials protects from mechanical and chemical damages in the process and increases the life span of the used sensors. This leads to: Cost savings for maintenance of the measuring point, quality improvements of the products and increased plant safety.
Snelle selectie
Kies uit één van de voorgestelde opties
Individuele configuratie
Ga verder met uw keuze uit alle mogelijke opties
Voordelen

Long lifetime by usage of innovative thermowell materials with increased wear and chemical resistance

Long term stable measurement due to sensor protection with non-porous materials

Flexible product selection by modular design

Optimized life cycle costs by...
Toepassingsgebied

Applicable for cement production, steel treatment, incinerators and fluidized bed furnaces. The TAF16 contains a single or double TC insert and a metal or ceramic protection tube.

Process temperatures: up to +1700 °C (+3092 °F)
Documenten / handleidingen / software
Accessoires / Spare parts
Extension cable TC IEC 2x type K

L=180mm, 3 stuks

Extension cable TC IEC 2x type J

L=180mm, 3 stuks

Extension cable TC IEC 2x type N

L=180mm, 3 stuks

Extension cable TC IEC 2x type S/R

L=180mm, 3 stuks

Terminal head only on request

Stop Flange adjustable,DIN EN 50446,23mm

Maximum temperature 400 oC. Material cast iron. Counter flangeand gasket not provided. No gas-tight connection. Dimension: d2=23 mm, a=90 mm, c=70 mm. Clampable diameter from 21mm to 22mm.

Stop Flange adjustable DIN EN 50446 16mm

Maximum temperature 400 oC. Material cast iron. Mating flange and gasket not provided. No gas-tight connection. Dimension: d2=16 mm, a=75 mm, c=55 mm. Clampable diameter from 14mm to 15mm.

Knelwartel geschr. G3/4 M d.22,5 316Ti

Maximum temperatuur 350oC Maximum druk 1 bar. Material roestvast staal Afmetingen: A=G 3/4", d=22mm, Wr=41

GCP assemblage, gasdicht, G1 1 / 2 ", 22

Max.temperatuur 350 °C Max. druk 1 bar. Materiaal 316Ti (1.4571). Voor buis diameters 21,3/22mm. Afmetingen: A=G 1 1/2", d=22,5 mm,Wr=55.

Geschroefde knelfitting G1" pijp 22mm

Maximum temperatuur 350oC Maximum pdruk 1 bar. Materiaal RVS Afmetingen: A=G1", d=22mm, Wr=41

Compression fitting G1" d28 316Ti

Maximum temperature 350 oC. Maximum pressure 1 bar. Material 316Ti (1.4571). For Pipe diameters 26,7/27mm. Dimension: A=G 1", d=28mm, Wr=46.

GCP koppeling, gasdicht, G 3/4", 15,5mm

Maximum temperatuur 350oC. Maximum druk 1 bar. Materiaal 316Ti (1.4571) Voor pijp diameter 13,7/14/15 mm. Afmetingen: A=G 3/4",d=15.5 mm, Wr=36.

Stop Flange adjustable,DIN EN 50446,29mm

Maximum temperature 400 oC Material cast iron. Counter flange and gasket not provided. No gas-tight connection. Dimension: d2=29mm, a=90mm, c=70mm. Clampable diameter from 27mm to 28mm.

Compression fitting G 1 1/4", 29mm

Maximum temperature 350 oC. Maximum pressure 1 bar. Material 316Ti (1.4571). For Pipe diameter 28mm. Dimension: A=G 1 1/4", d=29mm, Wr=55.

Compression fitting G11/2", 29mm

Maximum temperature 350 oC. Maximum pressure 1 bar. Material 316Ti (1.4571). For Pipe diameters 28mm. Dimension: A=G 1 1/2", d=29mm, Wr=55.

Compression fitting G3/4",19mm

Maximum temperature 350 oC. Maximum pressure 1 bar. Material 316Ti (1.4571). For Pipe diameter 18mm. Dimension: A=G 3/4", d=19mm, Wr=36.

Compression fitting G1", 19mm

Maximum temperature 350 oC. Maximum pressure 1 bar. Material 316Ti (1.4571). For Pipe diameter 18mm. Dimension: A=G 1", d=19mm, Wr=41.

Compression fitting G 1/2" 15,5mm 316Ti

Compression fitting G 1/2" 17,5mm 316Ti

Compression fitting G1" 15.5.mm, 316Ti

Spare parts kit sealing TA30A/TA30D

5x O-ring 3.69x1.78 5x 0-ring 74.7x2.75

Fixing kit cpl.TMT82/85/84 (europees)

2x schroef, 2x veer, 2x springveer, 1x afdichting CDI-connector

Meetinzet TPC100

Thermokoppel meetinzet, diam. 3 of 6mm, isolatie MgO, RVS mantel. Opbouw conform EN 60584, DIN 43735, ANSI MC96.1. Warme las geïsoleerd of geaard. Meetbereik type J: -40...750°C Meetbereik type K: -40...1100°C

iTEMP TMT181, koptransmitter PCP

Temperatuur transmitter, PC- programmeerbaar. Toepassing: RTD, TC, TC, Ohm, mV. 2-draads 4-20mA, galvanische isolatie. Foutreactie: NAMUR NE 43. Montage: kopvorm B, DIN EN50446. UL vermeld.

iTEMP TMT84, Transmitter PA

PROFIBUS PA temperatuur transmitter voor kop- of veldmontage met dubbele sensoringang en advanced diagnostics voor sensorbewaking. Profibus PA Profile 3.02. Galvanische isolatie 2kV. Stroomverbruik: 11 mA. Montage: aansluitkop vorm B, DIN EN50446. Standaard fabrieksinstelling: Kanaal 1: Pt100, 3-draads, oC. kanaal 2: inactief. Meerdere configuraties selecteerbaar.

iTEMP TMT85, Transmitter FF

FOUNDATION Fieldbus temperatuur transmitter voor kop- of veldmontage met dubbele sensoringang en advanced diagnostics voor sensorbewaking. Galvanische isolatie 2 kV Meetsignaal: RTD, TC, Ohm, mV. Stroomverbruik: 11 mA.

Commubox FXA195 (USB)

USB HART interface ten behoeve van universele configuratie tools (b.v. FieldCare) De stroomuitgang (4..20mA) is intrinsiek veilig uitgevoerd (SIL2, IEC61508) De interface wordt via de bijgeleverde kabel aan een PC of laptop aangesloten. De interface wordt gevoed via USB

Configuratiekit TXU10

Set-up software incl. USB- interfacekabel. Dit betreft een product uit het E-direct portfolio waar staffelprijzen aan gekoppeld zijn. Kijk voor meer informatie op www.e-direct.endress.com

ReadWin2000 configuratie/uitleessoftware

ReadWin2000 configuratie software

iTEMP TMT182, koptransmitter HART

Temperatuurtransmitter, Protocol HART. Toepassing: RTD, TC, Ohm, mV. 2-draads 4-20mA, galvanische isolatie. Foutreactie: NAMUR NE 43. Montage: kop vorm B, DIN EN50446. UL vermeld. Temperatuurtransmitter, Protocol HART. Toepassing: RTD, TC, Ohm, mV. 2-draads 4-20mA, galvanische isolatie. Foutreactie: NAMUR NE 43. Montage: kop vorm B, DIN EN50446. UL vermeld.

iTEMP TMT82, Transmitter HART

2-draads temperatuurtransmitter. Dubbele universele sensoringang. Galvanische scheiding 2 kV (input/ output). Toepassing: RTD, TC, Ohm en mV. :: Zeer betrouwbaar door drift detectie en sensor back-up. :: Optioneel ook voor veiligheidskritieke applicaties door middel van SIL 2/3 acc. naar IEC61508