RIA45
procesmeter met regeleenheid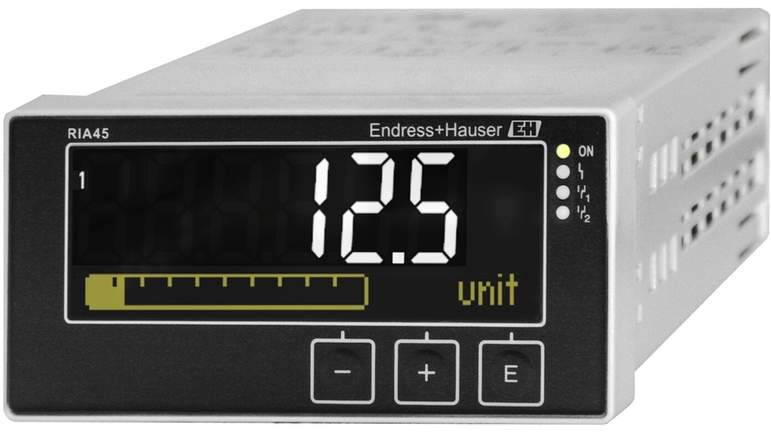 Multifunctionele procesmeter met paneelmontage voor bewaking en indicatie van analoge meetwaarden
Analoge meetwaarden worden weergegeven, beoordeeld en berekend door de procesmeter. Met de geïntegreerde lusvoeding kunnen tweedraads sensoren worden gevoed. Op de universele ingangen kunnen stroom, spanning, RTD's en TC's worden aangesloten. Grenswaarden kunnen worden bewaakt en relais kunnen worden geschakeld. Via analoge uitgangen kunnen processignalen worden doorgestuurd. Met het geïntegreerde toepassingenpakket "verschildruk" is een snelle en eenvoudige inbedrijfstelling voor verschildruktoepassingen mogelijk.
Eenvoudige producten

Gemakkelijk te selecteren, installeren en gebruiken
Technische topkwaliteit
Eenvoud
Standaardproducten

Betrouwbaar, robuust en onderhoudsarm
Technische topkwaliteit
Eenvoud
High-end producten

Functioneel en uiterst doelmatig
Technische topkwaliteit
Eenvoud
Gespecialiseerde producten

Ontworpen voor veeleisende applicaties
Technische topkwaliteit
Eenvoud
FLEX selectie
Technische topkwaliteit
Eenvoud

Fundamental selectie

Voldoe aan uw basismeetvoorwaarden

Technische topkwaliteit

Eenvoud

Lean selectie

Beheers eenvoudig uw belangrijkste processen

Technische topkwaliteit

Eenvoud

Extended selectie

Optimaliseer uw processen met innovatieve technologieën

Technische topkwaliteit

Eenvoud

Xpert selectie

Beheers uw meest uitdagende applicaties

Technische topkwaliteit

Eenvoud
Overzicht specificaties

Input

2 x universal (U, I, R, RTD, TC)

Output

Output

2 x analogue output (I, U)
1 x loop power supply

Display

Multicolor backlight LCD
White/black/yellow
Bargraph
Unit
TAG
Alarm warning in plain text

Power Supply
Loading alternative products
Snelle selectie
Kies uit één van de voorgestelde opties
Individuele configuratie
Ga verder met uw keuze uit alle mogelijke opties
Voordelen

5-cijferig 7-segments LC-display, met achtergrondverlichting

1 of 2 universele ingangen

2 relais (optioneel)

Min./max.-waarde opgeslagen

1 of 2 berekende waarden en linearisatietabel

Digitale statusuitgang (open collector)

SIL2-goedkeuring (optioneel);...
Toepassingsgebied

De RIA45-paneelmeter heeft een display, analoge ingangen voor proces- en statussignalen, analoge en digitale uitgangen en een interface voor configuratie. Aangesloten sensoren kunnen worden gevoed met de geïntegreerde lusvoeding. Alle gemeten en...
Documenten / handleidingen / software
RIA45 Technical Information

Technical Information RIA45 digital process meter and control unit in
panel mounted housing

Technische informatie (TI)

RIA45 Operating Instructions

Operating Instructions RIA45 Digital process meter with control unit in
panel-mounted housing

Inbedrijfsstellingsvoorschriften (BA)

RIA45 Brief Operating Instructions

Brief Operating Instructions RIA45 digital process meter with control
unit in panel-mounted housing

Short Instruction (KA)

10/15

ATEX Safety Instructions: II(1) G [Ex ia] IIC, II (1)D [Ex ia] IIIC

Safety instructions for electrical apparatus certified for use in
explosion-hazardous areas.

Ex Veiligheidsinstructies (XA)

Control Drawing FM approval AIS, ANI RIA45

Display with Control Functions RIA45
Installation Notes for hazardous locations

Control Drawing CSA AIS RIA45

Display with Control Functions RIA45
Installation Notes for hazardous locations

Functional Safety Manual RIA45

Functional safety manual for SIL2 certification of process meter RIA45

Speciale Documentatie (SD)

Manufacturer information NE53

Software update of RIA45, RIA46, RMA42

Fabrikanten Informatie (MI)

Portfolio Overview System products and data manager

Products and Solutions for completion of the measuring loop

Componenti di sistema e data manager

Soluzioni per il completamento del punto di misura

RIA, RID- Systemy_Instalacyjne_05_2010

Wskaźniki procesowe firmy Endress+Hauser dysponują wszystkimi
typowymi, wymaganymi dla punktu pomiarowego funkcjami:
przetwornika, bariery aktywnej, urządzenia sterującego wyposażonego
w przekaźniki, a także czytelnym wyświetlaczem.

Sistem Bileşenleri ve Kayıt Cihazları

Sisteminiz için tamamlayıcı çözümler

Системные компоненты и Регистраторы

Обзор продукции

Componentes de sistema y registradores

Soluciones para el lazo de control
Indicadores, dispositivos de interfaz, protección contra sobretensiones,
gestores de aplicaciones y energía, registradores sin papel y paquetes
de software asociado para la automatización de procesos.

System Components e Data Managers

Componenti di sistema e data manager
Soluzioni per il completamento del punto di misura

System Components and Data Managers

Solutions for the loop
Indicators, interface devices, surge arresters, energy and application
managers, data managers, paperless recorders and associated
software packages for process automation

Komponenty Systemów kontrolno-pomiarowych

Wskaźniki panelowe i obiektowe, zasilacze, bariery,
przetworniki sygnałów procesowych, ograniczniki przepięć
oraz przemysłowe liczniki ciepła i przepływu.

System Products and Data Managers

Solutions for the loop
Indicators, interface devices, surge arresters, energy and application
managers, data managers, paperless recorders and associated
software packages for process automation

Systemprodukte und Datenmanager

Lösungen zur Komplettierung der Messstelle
Anzeiger, Interfacegeräte, Überspannungsschutz, Energie- und
Applikationsmanager, Datenmanager, Bildschirmschreiber und
Softwarepakete für die Prozessautomatisierung

Produits système et data managers

Solutions associées

E-direct Produktcatalogus 2018-2019

High quality, low price

Endress+Hauser catalogie (EC)

10/18

Catalogue Produits E-direct 2019/2020 Français

La qualité Endress+Hauser à petit prix !

Endress+Hauser catalogie (EC)

09/19

E-direct Produktkatalog 2019/2020

Hohe Qualität zum kleinen Preis!

Endress+Hauser catalogie (EC)

06/20

Digitaler Prozessanzeiger RIA 45

Anzeigegerät mit Messumformerspeisung 24V DC für aktive und passive
Zweileitergeräte mit Linearisierungsfunktion

DTM Single, RIA45_V1_01, 18.11.2020 (Components, Display, 0x007D)

Common Device Interface,

DeviceCare Version: 1.07.00

Field Xpert - SMT70 Version: 1.05.00

FieldCare Version: 2.15.00

Device Type Manager (DTM)

1.4.188.38

DTM Single, RIA45_V1_02, 18.11.2020 (Components, Display, 0x007D)

Common Device Interface,

DeviceCare Version: 1.07.00

Field Xpert - SMT70 Version: 1.05.00

FieldCare Version: 2.15.00

Device Type Manager (DTM)

1.4.188.38

DTM Single, Display_RIA45_CDI_FW_1_03_zz, 18.11.2020 (Components, Display, 0x007D)

Common Device Interface,

DeviceCare Version: 1.07.00

Field Xpert - SMT70 Version: 1.05.00

FieldCare Version: 2.15.00

Device Type Manager (DTM)

1.4.188.38

ComDTM Single, CDI_CommDTM, 02.12.2019

Common Device Interface,

DeviceCare Version: 1.05.00

FieldCare Version: 2.13.00

Communication DTM

2.09.07

process displays

Productcode: RIA45-
verklaring Number: HE_00441_01.17
Specificatie van de fabrikant: RoHS

process displays

Productcode: RIA45-
verklaring Number: EC_00178_01.16

process displays

Productcode: RIA45-
verklaring Number: EC_00085_01.15

Soliswitch, process displays, Preline, power supply and barrier, power supply, over voltage protector, Mini-Log, Memo-Graph, Ecograph, controller, contactors / transmitters, Configuration Kit

Productcode: RIA452-, RIA452L-, RIA46-, RID14-, RID16-, RMA42-, RMC621-, RMC621L-, RMS621-, RMS621L-, RN221N-, RN221NL-, RNB130-, RNS221-, RNS221L-, RS33-, RSG35-, RSG40-, RSG45-, RTA421-, RTA421L-, TXU10-, RIA45-, FML621-, FTE20-, FTE30-, FTE31-, HAW562-, HAW569-, OFTE20-, ORIA15-, ORIA45-, ORIA46-, ORMA42-, ORSG35-, ORSG45-, OSG40-, OSG45-, RA33-, RB223-, RDL10-, RH33-, RIA14-, RIA15-, RIA16-
verklaring Number: EC_00569_01.17

process displays

Productcode: RIA45-
verklaring Number: SIL_00155_01.17

contactors / transmitters, process displays

Productcode: RIA14-, RIA15-, RIA16-, RIA45-, RIA452-, RIA46-, RID14-, RID16-, RMA42-
Regio: Russia (TR CU)
Keuringsinstantie: EAC
Keurnummer: EAEC N RU D-DE.AB53.B.01167/20

contactors / transmitters, process displays

Productcode: RIA45-, RIA452-, RIA46-, RMA42-
Regio: Russia (TR CU)
Keuringsinstantie: EAC
Keurnummer: EAEC N RU D-DE.AB53.B.01171/20

contactors / transmitters, process displays

Productcode: RIA45-, RIA46-, RMA42-
Regio: China
Keuringsinstantie: ACMA
Keurnummer: MD-17035A/09/EN

process displays

Productcode: RIA45-, RIA46-
Regio: Europe (ATEX)
Keuringsinstantie: PTB
Catagorie: II (1) GD
Bescherming: [Ex ia] IIC

process displays

Productcode: RIA45-, RIA46-
Regio: USA
Keuringsinstantie: FM
Catagorie: I,II,III/1+2/ABCDEFG
Bescherming: AIS, [I/O] AEx [ia] IIC, NI, ANI

process displays

Productcode: RIA14-, RIA16-, RIA45-, RIA452-, RIA46-, RID14-, RID16-
Bescherming: [Ex ia Ga] IIC T6...T4 Ga, Ex d IIC T6...T4 Gb, Ex ia IIC T6...T4 Ga, Ex ia IIC T6...T4 Gb, Ex ib IIC T6...T3 Gb, Ex ib IIC Txxx°C Gb, Ex tb IIIC Txxx°C Db

process displays

Productcode: RIA45-
Regio: International
Keuringsinstantie: DNVGL

RTD-thermometer, head transmitters, DIN Rail Transmitter, process displays, Memo-Graph, Field transmitter, Ecograph, contactors / transmitters

Productcode: TMT85-, TMT162-, TMT142-, RIA14-, RIA16-, RIA45-, RIA46-, RMA42-, RSG35-, RSG45-, TMR31-, TMR35-, TMT84-, TMT82-, TMT188-, TMT187-, TMT182-, TMT181-, TMT128-, TMT127-, TMT122-, TMT121-, TMT112-, TMT180-, TMT111-, TTR35-, TTR31-, RSG40-
Regio: Canada, USA
Keuringsinstantie: UL

Ordinary Location Product Safety
Accessoires / Spare parts
Nr

5

Order code

RIA45X-NA

Nr

5

Order code

RIA45X-NB

Nr

5

Order code

RIA45X-NC

Nr

5

Order code

RIA45X-ND

Nr

6

Order code

RIA45X-IA

Nr

6

Order code

RIA45X-IB

Klemmenstroom, 3 polig (tbv voeding)

(voor spanningsverzorging) Voor units vanaf serienummer XA4102967 RIA45, grijs gekleurd connector

Terminal plug 3pole "N L PE" pitch 5.08

for power supply from unit No. DB001004267 orange coloured connector

Terminal plug 3pole "N L PE" pitch 5.08

Nr

10

Order code

71037350

Terminal strip 4pole FMC1,5/4-ST-3,5

Memograph M: voor analoge uitgang (op digitaal I/O kaart) RIA45 voor analoog input niet Ex CM14 (tbv Memosens ingang)

Nr

13

Order code

71037408

Terminal strip 3 pole FKC2,5/3-ST-5,08

voor relais 1 + 2 (twee richtingen)

Nr

10

Order code

71074564

Terminal strip 4pole space3.5 Ex codiert

Analoge ingang Ex, blauw boven (terminal x1, x2, x3, x4)

Nr

10

Order code

71074567

Terminal strip 4pole space3.5 Ex

Analoge ingang Ex, blauw, beneden (Klemmen x5, x6, x7, x8)

Nr

12

Order code

71075062

Terminal strip 4pole space 3.81 non Ex

Klemmenstrook uitgang 1 + statusuitgang (DI11,DI12,O15)

Nr

11

Order code

71075063

Terminal plug 2pole space3.81 spring

Analog output 2 (O25, O26)

Nr

13

Order code

71296188

Terminal plug 3pole "R12 R11 R13"RM5.08

Nr

13

Order code

71296190

Terminal plug 3pole "R22 R21 R23"RM5.08

Configuratiekit TXU10

Set-up software incl. USB- interfacekabel. Dit betreft een product uit het E-direct portfolio waar staffelprijzen aan gekoppeld zijn. Kijk voor meer informatie op www.e-direct.endress.com