Proline Promass S 300
Coriolis flowmeter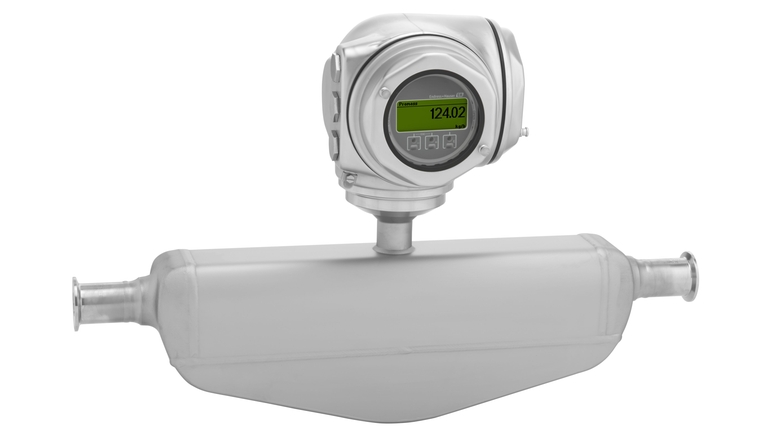 Easy‐to‐clean, self‐drainable single‐tube system with a compact, easily accessible transmitter
Promass S is at the forefront in hygienic design and dedicated to applications in the food and beverage industry requiring optimal cleanability. The self‐drainable single-tube system ensures careful treatment of fluids. With its compact transmitter Promass S 300 offers high flexibility in terms of operation and system integration: access from one side, remote display and improved connectivity options. Heartbeat Technology ensures process safety at all times.
Snelle selectie
Kies uit één van de voorgestelde opties
Individuele configuratie
Ga verder met uw keuze uit alle mogelijke opties
Voordelen

Increased process safety – easily cleanable and fully self-drainable tube design

Fewer process measuring points – multivariable measurement (flow, density, temperature)

Space-saving installation – no in/outlet run needs

Full access to process and...
Toepassingsgebied

Measuring principle operates independently of physical fluid properties such as viscosity or density

Dedicated to applications requiring optimal cleanability under hygienic conditions.

Device properties

Large range of hygienic process connections

3-A...
Documenten / handleidingen / software
Accessoires / Spare parts
Nr

31

Order code

71323007

Kit power supply, 100-230VAC, Ex

Gebruik: Promag/Promass 300/500, Prosonic Flow 300, transmitterbehuizing, elektronisch compartiment.

Nr

31

Order code

71323008

Kit power supply, 24VDC, Ex

Gebruik: Promag/Promass 300/500 Prosonic Flow 300, transmitterbehuizing, electronisch compartiment.

Nr

31

Order code

71323009

Kit pow.supply,100-230VAC/24VDC, Non-haz

Gebruik: Promag/Promass/Prosonic Flow 300/500 digitaal. Niet gevaarlijk, Zone 2, transmitterbehuizing, electronisch compartment.

Nr

39

Order code

71185788

Kit T-DAT, Promass 100

Gebruik: Promag / Promass 100/300/500, 500 digitaal, Prosonic Flow E 100, Prosonic Flow 300, 500 digitaal, Promag 400(C). (C)= generatie index C.

Nr

33

Order code

XPD0028-

ISEM electronic module, Promass 300/500

Usage: Promass, Cubemass 300/500

Nr

37

Order code

71323010

Kit module cartridge, 300/500, Ex

Gebruik: Transmitterbehuizing, elektronisch compartiment. Bestaat uit: module cartridge incl. interconnectie board.

Nr

34

Order code

XPD0037-

I/O module, slot 1, 300/500

Usage: Proline 300/500

Nr

37

Order code

71323011

Kit module cartridge, 300, Non-haz

Gebruik: transmitterbehuizing, elektronisch compartiment. Bestaat uit: module cartridge incl. interconnectie board.

Nr

46

Order code

71323005

Kit ISEM ribbon cable, 300/500

Gebruik: Promag/Promass 300/500, t-mass 300, transmitter behuizing.

Nr

35

Order code

XPD0038-

I/O module, slot 2/3/4, 300/500

Usage: Proline 300/500

Nr

45

Order code

71323073

Kit conn.terminal option A, 300, Non-haz

Gebruik: transmitterbehuizing Alu/hygiënisch aansluitruimte. Optie A= HART, Profibus PA, FOUNDATION Fieldbus. Bestaat uit: 1x aansluiting 2-Pol., 1x aansluiting 3-Pol., 1x aansluiting 4-Pol.

Nr

50

Order code

XPD0031-

Display module, 300/500/DKX001

Usage: Proline 300/500, DKX001.

Nr

45

Order code

71323074

Kit conn.terminal option B, 300, Non-haz

Gebruik: transmitterbehuizing Alu/hygiënisch, aansluitcompartiment. Optie B= EtherNet, PROFINET. Bestaat uit: 1x aansluitklem 3-pol., 1x aansluitklem 4-pol.

Nr

45

Order code

71327818

Kit conn.terminal option C, 300, Non-haz

Gebruik: transmitterbehuizing Alu/hygiënisch aansluitruimte. Optie C = PROFIBUS-DP, Modbus RS485. Bestaat uit: 1x aansluiting 2-Pol., 1x aansluiting 3-Pol., 1x aansluiting 4-Pol.

Nr

45

Order code

71323075

Kit conn.terminal option A, 300/500, Ex

Gebruik: transmitterbehuizing Alu/cast, aansluitruimte. Optie A= HART, Profibus PA, FOUNDATION Fieldbus. Bestaat uit: 2x aansluiting 2-Pol., 1x aansluiting 4-Pol.

Nr

45

Order code

71323076

Kit conn.terminal option B, 300/500, Ex

Gebruik: transmitterbehuizing Alu/cast, aansluitruimte. Optie B= Ethernet, PROFINET. Bestaat uit: 2 x aansluiting 2-Pol.

Nr

45

Order code

71327819

Kit conn.terminal option C, 300/500, Ex

Gebruik: transmitterbehuizing Alu/cast, aansluitruimte. Optie C= PROFIBUS-DP, Modbus RS485. Bestaat uit: 2x aansluiting 2-Pol., 1x aansluiting 4-Pol.

Nr

49

Order code

71323079

Kit terminal, transm.,remote display,300

Gebruik: transmitterbehuizing Alu/cast, aansluitruimte met afstands display DKX001. Bestaat uit: 1x aansluiting 4-Polig.

Nr

20

Order code

71323016

Kit cover, sight glass, Alu,Non-haz/Exde

Gebruik: Promag/Promass/Prosonic Flow 300, transmitterbehuizing Alu, Niet gevaarlijk. Promag/Promass 300/500, transmitterbehuizing Alu, Ex. Bestaat uit: afdekking Alu, kijkglas, O-Ring 110.7x3.53 HNBR.

Nr

20

Order code

71323017

Kit cover,glass, Alu, -50oC,Non-haz/Exde

Gebruik: Promass/Prosonic Flow 300, transmitterbehuizing Alu, niet- gevaarlijk. Promag 500, Promass 300/500, transmitterbehuizing Alu, Ex. Bestaat uit: afdekking Alu, kijkglas, O-ring 110,7 x 3,53 FVMQ, -50°C/-58°F.

Nr

21

Order code

71323018

Kit cover, blind, Alu, Non-haz/Exde

Gebruik: Promag/Promass/Prosonic Flow 300, transmitterbehuizing Alu, niet- gevaarlijk. Promag/Promass/Prosonic Flow 300, transmitterbehuizing Alu, Ex. Bestaat uit: afdekking Alu, O-ring 110,7 x 3,53 HNBR.

Nr

21

Order code

71323019

Kit cover, blind, Alu,-50oC,Non-haz/Exde

Gebruik: Promass/Prosonic Flow 300, transmitterbehuizing Alu, Niet- gevaarlijk. Promass/Prosonic Flow 300, transmitterbehuizing Alu, Ex. Bestaat uit: Alu deksel, O-Ring 110,7x3,53 FVMQ, -50°C/-58°F.

Nr

20

Order code

71323020

Kit cover, sight glass, Alu, Exd

Gebruik: Promag /Promass 300/500, Prosonic Flow 300 Transmitterbehuizing Alu, Ex. Bestaat uit: Alu deksel, kijkglas, O-Ring 110,7x3,53 HNBR.

Nr

20

Order code

71323021

Kit cover, sight glass, Alu, -50oC, Exd

Gebruik: Promag 500, Promass 300/500, Prosonic Flow 300, transmitterbehuizing Alu, Ex. Bestaat uit: Alu deksel, kijkglas, O-Ring 110,7x3,53 FVMQ, -50°C/-58°F.

Nr

21

Order code

71323022

Kit cover, blind, Alu, Exd

Gebruik: Promag/Promass/Prosonic Flow 300, transmitterbehuizing Alu, Ex. Bestaat uit: Alu afdekking, O-ring 110,7 x 3,53 HNBR.

Nr

21

Order code

71323023

Kit cover, blind, Alu, -50oC, Exd

Gebruik: Promass/Prosonic Flow 300, transmitterbehuizing Alu, Ex. Bestaat uit: Alu afdekking, O-ring 110,7 x 3,53 FVMQ, -50°C/-58°F.

Nr

70

Order code

71323026

Kit cover gasket, sight glass/blind

Gebruik: Promag/Promass 300/500, Prosonic Flow 300, transmitterbehuizing Alu/gegoten. Bestaat uit: 10x O-Ring 110.7x3.53 HNBR.

Nr

70

Order code

71323027

Kit cover gasket,sight glass/blind,-50oC

Gebruik: Promag 500, Promass 300/500, Prosonic Flow 300, transmitterbehuizing Alu/gegoten, Bestaat uit: O-Ring 110,7x3,53 FVMQ, -50°C/-58°F.

Nr

22

Order code

71323028

Kit cover, electr.compart., Alu, Non-haz

Gebruik: Promag/Promass/Prosonic Flow 300, Alu transmitterbehuizing, Niet- gevaarlijk. Bestaat uit: Alu dekstel, O-Ring 117,1x3,53 HNBR.

Nr

22

Order code

71323029

Kit cover,electronic, Alu,- 50oC,Non-haz

Gebruik: Promass/Prosonic Flow 300, Alu transmitterbehuizing, Niet- gevaarlijk. Bestaat uit: Alu deksel O-Ring 117,1x3,53 FVMQ, -50°C/-58°F.

Nr

74

Order code

71323030

Kit cover gasket,electr.compart.,Non-haz

Gebruik: Promag/Promass/Prosonic Flow 300, Alu transmitterbehuizing, Niet- gevaarlijk. Bestaat uit: 10x O-Ring 117,1x3,53 HNBR.

Nr

74

Order code

71323031

Kit cover gasket,electr., -50oC, Non-haz

Gebruik: Promass/Prosonic Flow 300, Alu transmitterbehuizing, Niet- gevaarlijk. Bestaat uit: O-Ring 117,1x3,53 FVMQ, -50°C/-58°F.

Nr

22

Order code

71323032

Kit cover, electronic compart., Alu, Ex

Gebruik: Promag/Promass 300/500, Prosonic Flow 300, transmitterbehuizing Alu, Ex. Bestaat uit: Alu afdekking, O-ring 120,2 x 3,53 HNBR.

Nr

22

Order code

71323033

Kit cover, electr.compart., Alu,-50oC,Ex

Gebruik: Promag 500, Promass 300/500, Prosonic Flow 300, transmitterbehuizing Alu, Ex. Bestaat uit: Alu afdekking, O-ring 120,2 x 3,53 FVMQ, -50°C/-58°F.

Nr

74

Order code

71323036

Kit cover gasket, electronic compart.,Ex

Gebruik: Promag/Promass 300/500, Prosonic Flow 300, transmitterbehuizing Alu/gegoten, Ex. Bestaat uit: 10x O-ring 120,2 x 3,53 HNBR.

Nr

74

Order code

71323037

Kit cover gasket,elect.compart.,-50oC,Ex

Gebruik: Promag 500, Promass 300/500, Prosonic Flow 300, transmitterbehuizing Alu/gegoten, Ex. Bestaat uit: O-ring 120,2 x 3,53 FVMQ, -50°C/-58°F.

Nr

28

Order code

71323044

Kit cover, remote display, Alu

Gebruik: Remote display DKX001, behuizing Alu. Bestaat uit: afdekking Alu, O-ring 88,50 x 3,53 HNBR.

Nr

28

Order code

71323045

Kit cover, remote display, Alu, -50oC

Gebruik: Remote display DKX001, behuizing Alu. Bestaat uit: afdekking Alu, O-ring 88,50 x 3,53 FVMQ, -50°C/-58°F.

Nr

76

Order code

71323048

Kit cover gasket, remote display

Gebruik: Remote display DKX001, behuizing Alu/cast. Bestaat uit: 10x O-ring 88,50 x 3,53 HNBR.

Nr

76

Order code

71323049

Kit cover gasket, remote display, -50oC

Gebruik: Remote display DKX001, behuizing Alu/cast. Bestaat uit: O-ring 88,50 x 3,53 FVMQ, -50°C/-58°F.

Nr

71

Order code

71323071

Kit interface gaskets, 300/500

Gebruik: Promass 300/500, Prosonic Flow 300, transmitterbehuizing/sensor of transmitterbehuizing/wandmontage Bestaat uit: 5x O-Ring 88,50x3,53 HNBR voor interface.

Nr

71

Order code

71323072

Kit interface gaskets, 300/500, -50°C

Gebruik: Promass 300/500, Prosonic Flow 300, transmitterbehuizing/sensor of transmitterbehuizing/wandmontage. Bestaat uit: O-Ring 88,50x3,53 FVMQ voor interface, -50°C/-58°F.

Nr

71

Order code

71368491

Kit interface gaskets, Promass 300, hyg.

Gebruik: Transmitter behuizing/sensor. Bestaat uit: 5x O-Ring 88,50x3,53 HNBR voor interface, 5x pakking EPDM voor interface.

Nr

11

Order code

71368488

Kit protective cover optionA,300,Non-haz

Gebruik: Transmitter behuizing Alu/hygiënisch, Aansluitcompartiment. Optie A= HART, PROFIBUS PA, PROFIBUS DP, Modbus RS485, FOUNDATION Fieldbus. Bestaat uit: Aansluitscherm beschermkap, Display drager, 2x schroef M4x10.

Nr

11

Order code

71368489

Kit protective cover optionB,300,Non-haz

Gebruik: Transmitter behuizing Alu/hygiënisch, Aansluitcompartiment. Optie B= EtherNet, PROFINET. Bestaat uit: Aansluitscherm beschermkap, Display drager, 2x schroef M4x10

Nr

11

Order code

71323081

Kit protective cover option A,300/500,Ex

Gebruik: transmitterbehuizing Alu/cast, aansluitruimte. Optie A= HART, Profibus PA, Profibus DP, Modbus RS485, FOUNDATION Fieldbus. Bestaat uit: Aansluitruimte beschermhoes, vertoning vervoerder, 2x schroef M4x10.

Nr

11

Order code

71323082

Kit protective cover option B,300/500,Ex

Gebruik: transmitterbehuizing Alu/cast, aansluitruimte. Optie B= Ethernet, PROFINET. Bestaat uit: Aansluitruimte beschermhoes, vertoning vervoerder, 2x schroef M4x10.

Nr

87

Order code

71343505

Kit weather protection cover, 300/500

Gebruik: Promag/Promass 300/500, Prosonic Flow 300, transmitterbehuizing. Bestaat uit: Weer beschermingskap 4404,installatiemateriaal.

Kit wireless antenna extended range

Bestaat uit: Verbindingskabel in de transmitter, Ex kabelinvoer voor antenne, 1,5 m kabel,antenne,hoek met wartelmoer.

Transmitter Promass 300, 8X3BXX

With an integrated web server.

Connection Cable for Remote Display

Connection Cable for Remote Display DKX001 of Proline 300.

Spare RFID TAG

Consists of: RFID TAG, fixing wire, crimp sleeve.

Promass sensor, heating jacket, DK8003

Heating medium (e.g. water, steam)